Good evening internet, I am in a happy mood. Why? This wonderful human below..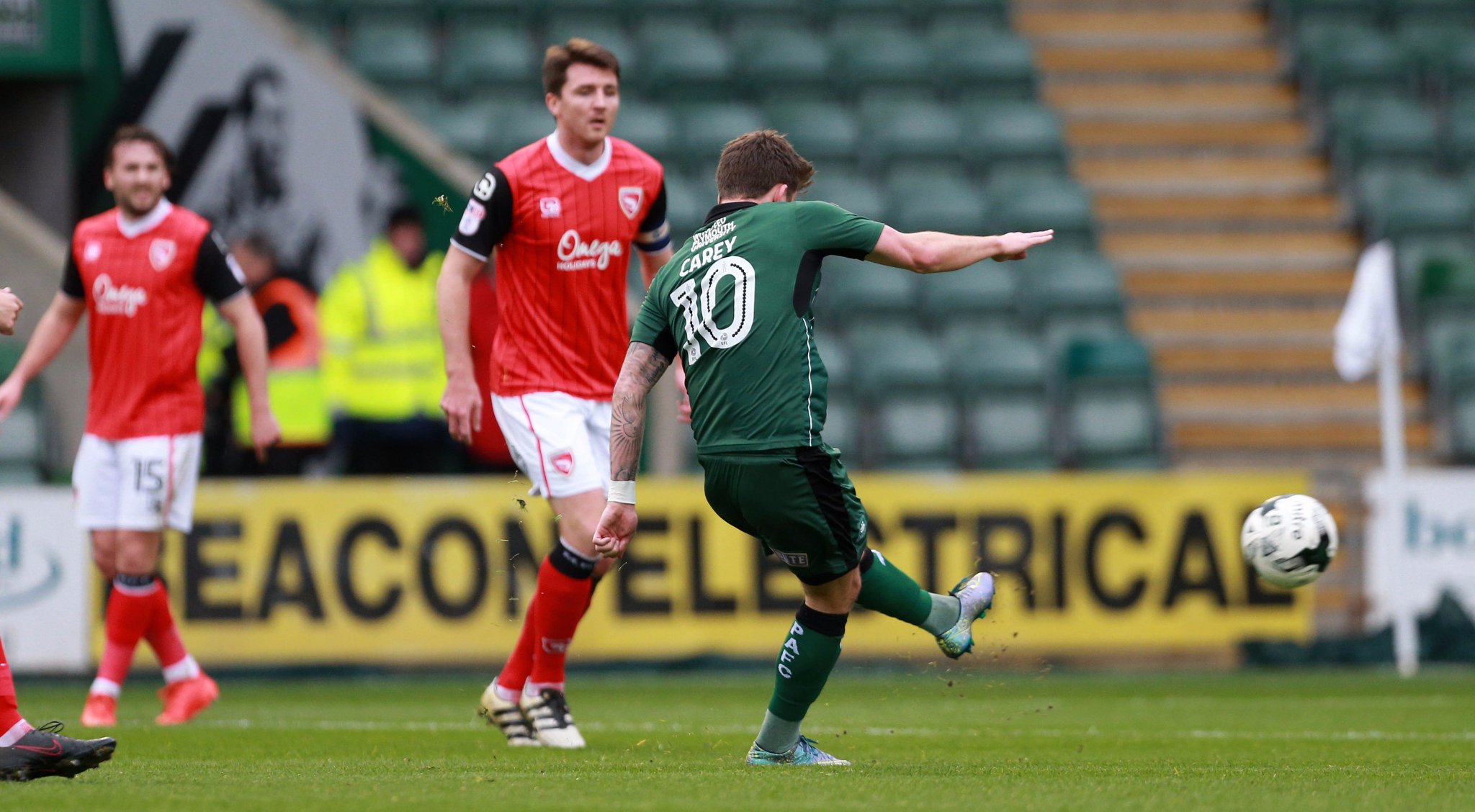 .. Graham Carey, yes, that wonderful man. Get in GC! As one bugger I know would say, "That clearly was a good ball in." Indeed it was, a lovely curler into the net. A good performance from a team that has been hot and cold in recent weeks, especially at home. An important win over Morecambe increases the points difference between Argyle and 4th place, who is currently Stevenage Town, to 11 pts. With top of the table Doncaster winning at bottom club Leyton Poorient, it leaves the Greens still in 2nd place, but to a majority of the Green Army, promotion is what it's all about. IMHO, I would prefer to get automatic promotion sealed, especially after last season. If we end up toe to toe with Doncaster Rovers in the last couple of games, with the league still up for grabs with promotion already sealed, then absolutely go for it, why not? After the blip that Argyle have had of recent, a 1-0 win against a good Morecambe side, with Portsmouth losing as well, is all in all a wonderful result. Argyle's next game is ironically Doncaster Rovers, at the Keepmoat Stadium, K.O 2.45pm and also to be shown LIVE on Sky Sports 1. Quite arguably, Argyle's biggest fixture, not only this season, but in recent seasons, in terms of where it could put Argyle at the end of the season. If Argyle win, there is a much easier chance for us to catch the leaders and grab the League Two title off their hands, but like I say, the main aim is GET PROMOTED! You bridders.
A lot of the Green Army, after today, believe mathematically we're over the line. As we know with Argyle, it isn't always easy. If we can win at least 4 out of the last 8 games remaining, that'll really officially put us over the line. Especially with the gap that currently stands at 11 pts. Others will say, 6 or 7, some will say 2 or 3 games. Anything can happen in this league, especially the way we give away matches sometimes, I'm still more than confident that we'll get automatic promotion by the middle of April. There is a long way to go, a lot of miles to clock up, I hope to see a lot more of the Green Army in that time and really get behind the players and manager.
Another review of the promotion progress will be up after the Doncaster game on the 26th of March, depending on results, I shall be drunk and probably not able to see let alone type. Until then, enjoy the read and speak soon.
A.